Discover more from Bird Mountain
Mark Bonta's Big Year quest to log 200 species for Plummer's Hollow in 2023.
Warbler Rain
--Wed to Sat, Sept 6-9 2023--
Wednesday dawns clear and in the low sixties. The moon is getting smaller by the day, and Venus brighter. I've got scant time before an early meeting, but enough to get up to the field to see what comes out ahead of the 90s heat.
But for a Whip-poor-will, it's quiet until a bit after six, when the sky comes alive with a faint chorus of peeps, and a Wood Thrush clucks on the ground, as if in reply. Veeries and Swainson's Thrushes are descending in untold numbers; the NFC recording later shows them in the hundreds.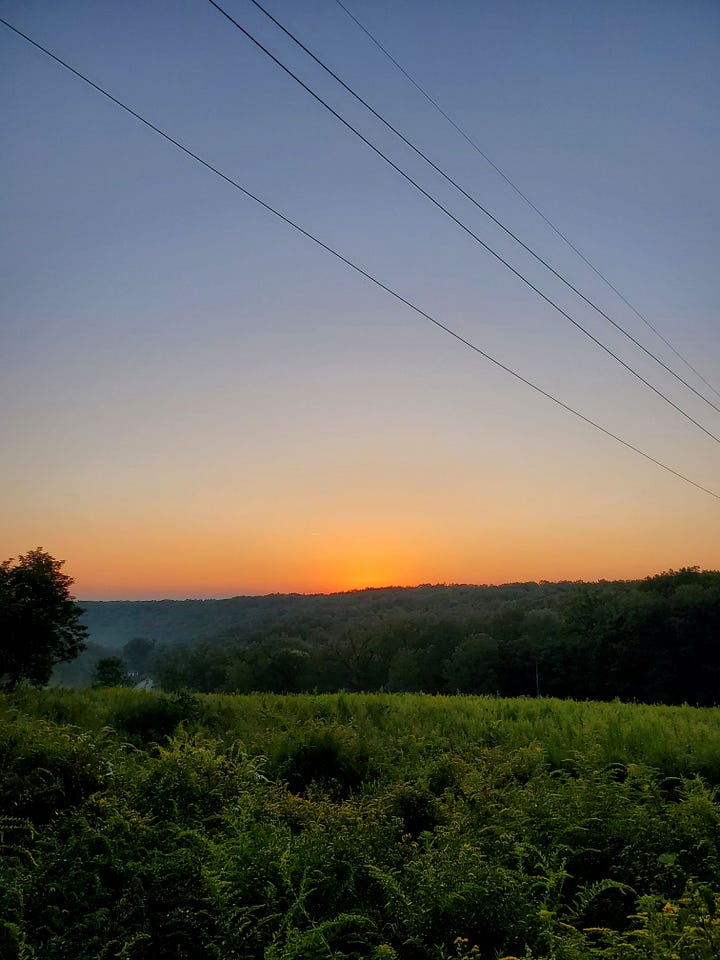 Around 6:20, a most unusual dawn chorus commences in earnest. I can't ID several of the sounds, and neither can Merlin, so I suppose they're Rose-breasted Grosbeaks, as I have already been able to distinguish a few of their more regular sounds. A Warbling Vireo sings, then a House Finch, a Blue-Gray Gnatcatcher, and a Hooded Warbler: strange combos in this part of the hotspot the rest of the year, but normal in early September, when everything seems jumbled together in a mad dash southward, or in some direction. I can already hear the buzzing, ticking, and chipping of what sounds like hundreds of warblers from the goldenrod and from the woods on both sides.
I move over toward the powerline cut for a better view of the eastern sky, just in time to catch streams of European Starlings heading over the mountain toward Tyrone. In their midst is an American Kestrel, heading north. Minutes later, a Sharp-shinned Hawk and a Common Nighthawk are out, the sharpie heading north and the bullbat migrating south.
From there, I move to another favorite sit spot some 30 feet in front of the warbler catalpa. I hang up the portable loudspeaker and play a little vireo, and the trees begin to rain warblers. Nineteen species appear in just a few minutes, including one of my favorites, a Connecticut Warbler (Plummer's Hollow 200 #193), a couple weeks ahead of schedule. It walks obligingly into the open on a low catalpa branch. The warbler year is now complete.
People often complain about the difficulty of identifying fall warblers, but the confusion, which is justified, is more than compensated for by their abundance and relatively tameness, compared to spring. In a single location, I am able to watch Pine Warblers and Northern Parulas closely, two I barely to get to glimpse in the canopy in spring. Cape May Warblers, the commonest these days, sport a variety of plumages and I revel in close-ups of their interactions with others of their species and with Red-eyed Vireos.
I walk back the way I came, wading through a Tennessee Warbler fallout in the goldenrod. I quickly count 20, but there are no doubt many more. For once, something outnumbers the omnipresent Cape May Warblers.
Well before 8 AM I am heading out, and the list finishes at 63 species.
At the river, a female Common Merganser perches placidly on a rock a couple hundred feet upstream, and beyond that, two deer pluck their way through the water.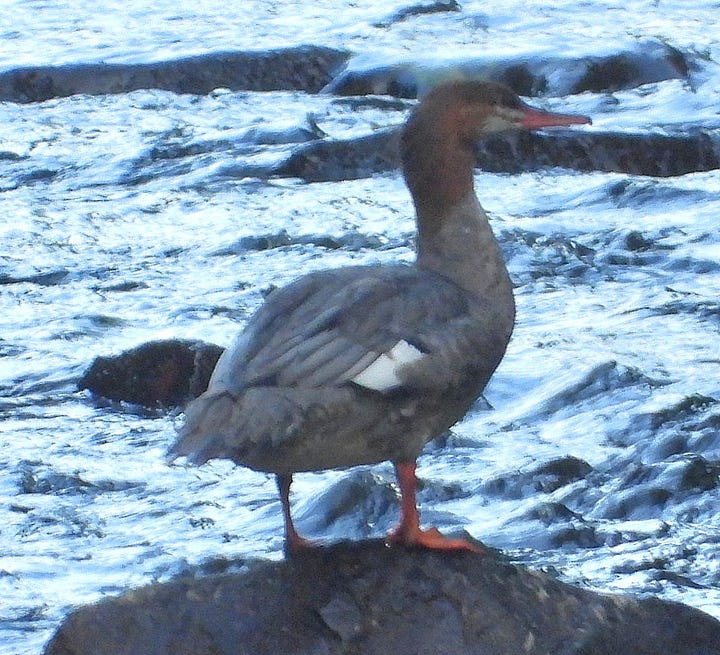 From Tennessees to Nashvilles
Thursday I have a bit more time, so I'm eager to see if I can get higher Tennessee Warbler numbers today. The weather is pretty much the same as yesterday, with the addition of a faint Great Horned Owl and a closer Eastern Screech-Owl. Once again, it sounds like warblers are still present in high numbers.
Birds aren't the only migrants these days. Monarch butterflies have been going over in fair numbers, and I suppose some of the bats may be migrating as well, but the real story is the green darners. They are up by 6:40, by the hundreds, apparently too big or difficult for the songbirds to mess with, though I do see a Black-and-white Warbler getting into sort of tiff with a dragonfly at one point.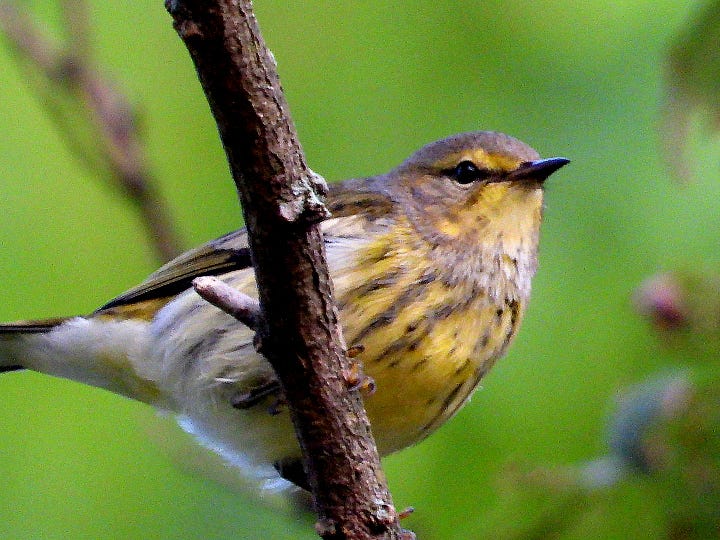 Today I only find 11 Tennessee Warblers; they are eclipsed by the Nashville Warblers, which love our goldenrod and locust combo. Two other species with high numbers are Yellow-throated Vireos, in small flocks, close up, and male Black-throated Blue Warblers. Even more than yesterday, it seems that the entire northwest side of the field, and the adjacent woods up into the taller black cherries, is saturated with a single giant flock of songbirds. I would think that there are several times more individuals of many of the species I see (64 in all).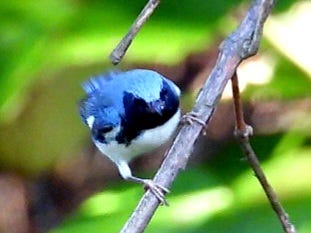 Today is a humbling and overwhelming experience. The flocks are so large and diverse that it is impossible to ID everything even when it's in plain view, because birds are moving at all levels, on all sides, pausing only for seconds. Down at the Connecticut Catalpa at the far end of First Field, a Connecticut Warbler obligingly appears, perhaps the same one as yesterday. I don't have time for more photos, as I'm trying to keep track of the Chestnut-sided and Magnolia warblers that are in plain view in this Catalpa Worm-defoliated tree. I'm also hoping yet another Traill's Flycatcher will give me some word to let me know if it's an Alder or a Willow, neither of which we have ever recorded for the fall. But these Empids, unlike the vocal Least and Acadian flycatchers, which are also still around, are mute.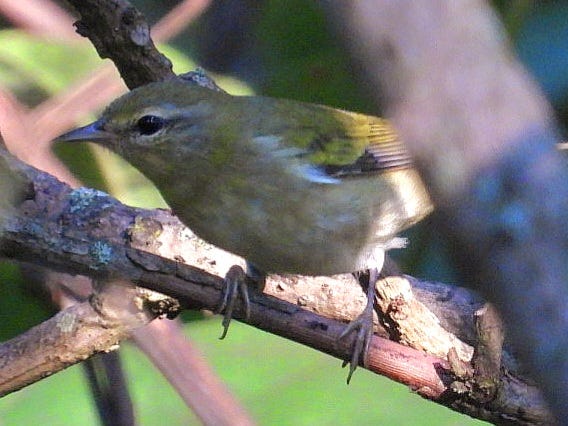 Another Fall specialty, though one I did get in the spring, is the Philadelphia Vireo. I heard an odd vireo singing earlier over by the powerline, then saw a Philly not far away. Like the Connecticut, it's just a bit early.
Crossbill Watch
With the Connecticut Warbler showing up early at #193, the only easy species left for 2023 is the Lincoln's Sparrow, which should be common in the field by late September. Right now, we are the waning season for Olive-sided Flycatcher and Yellow-breasted Chat, so I have effectively dipped on those two. Another possibility is the Red Crossbill, which I saw fly by my balcony during strong winds in early September last year, a bit after 7 AM.
I'm hoping Friday will be such a morning, but the balcony sit is relatively unproductive and though the heat wave is finally over, the storms that replace it don't seem to stir the species up too much.
The first bird this morning, a distant Carolina Wren, doesn't sound off until 6:30 AM (by this time up in the field the list would already stand at 20). The usual species come out, one after the other, including at least one Ruby-throated Hummingbird to the feeder, about once every 10 minutes.
For some reason, around 6:40, an American Robin in a nearby sycamore gives a repeated alarm call, but nothing ever shows up, and it eventually flies off, alone, into the Gap.
The local Mallards are restless this morning, up and down and all around town, perhaps a bit of Zugunruhe of their own. Once again, House Finch numbers top out at around 50, hundreds less than last year at this time.
Some excitement happens when a Belted Kingfisher explodes vertically from the confluence and circles over the apartments, then heads upriver, rattling explosively. This is at 6:43; at 7:09, kingfisher number two comes upriver, but this one skims the surface of the water. I think there may even be a third around—not unusual during this time of year, the height of kingfisher migration. Our all-time high count was last August 28, when I found four along the river in the Gap.
By 7:30, activity is ceasing as clouds push down from all sides, and the breeze picks up. A chipper, chipping Eastern Phoebe shows up along Bald Eagle Creek, as always, wagging its tail, a silent Common Raven flies low across the screen, and that's it for the video. I'm nearly out of time and patience, but after a bit more waiting, and some more coffee, six female Common Mergansers, flashing silvery white against Sapsucker Ridge, end the first dawn of the new eBird week.
Fog & Thrushes
Finally, on Saturday, I can take the time needed to scour the field edges before the first big migration peak ebbs too much. Paola drops me off at 5:39 AM, and as she's leaving, a Barred Owl wails and then hoots, going silent as the car door closes softly.
After violent storms in the area, we're left with heavy fog, but only the lightest sprinkle. It's in the upper sixties, with three bug registers: katydids, field crickets, and that background hum of everything else. I set up at the sweet spot in the neck.
The difference today is the quiet. Everything is muffled, even the trucks and trains.
Just after six, the chorus of peeps commences. As I'm able to estimate some 25 Veeries and 100 Swainson's Thrushes, I suspect there will be multiples of these numbers on the antenna recording. There also appear to be a fair number of Rose-breasted Grosbeaks. The fog's too thick to see anything but some blurry bats, even when a particularly loud thrush seems to drop out of the air right next to me. I'm not really sure clear on the mechanics of the thrush descent, but up here on the top of the ridge, I picture it like the way robins drop out of the sky on summer evenings to roost along the river. I imagine the migrant thrushes plummeting steeply into the treetops in singles, pairs, and small groups, calling as they do so, then calling on the ground, while others continue to the next good spot southward. I also wonder whether the Wood Thrushes that start clucking from the woods are reacting in some way to this phenomenon, which also includes several of their species descending .
The Swainson's Thrushes wait until the last minute, later than the Veeries, and their calls overlap with Eastern Towhee reeps between 6:20 and 6:22. While this is happening, the Whip-poor-will is still going, and an Eastern Screech-Owl is also doing an elaborate series up toward the spruce grove. The fog gets thicker. That doesn't bode well for visibility, but it may keep the birds active longer.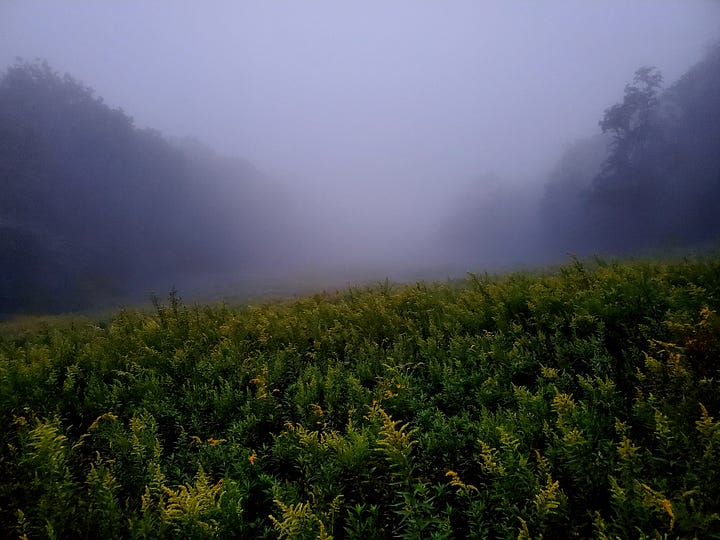 Like two days ago, the beginning of the dawn chorus contains several unfamiliar calls and snatches of song which could be grosbeaks. Once again, two different Hooded Warblers sing from the woods on opposite sides of the field.
At 6:30, a vireo sings from the woods by the deer exclosure. It's somewhat like a Red-eyed Vireo, but a half hour too early, and it sounds quite a bit different; not a Blue-headed or Yellow-throated, either, two other vireos that are around and also sing later. It's a vireo I can't really ever recall hearing, but it matches the second vocalization of the Philadelphia Vireo in Merlin, even though the Sound app in Merlin insists on calling it both a Common Grackle and a European Starling.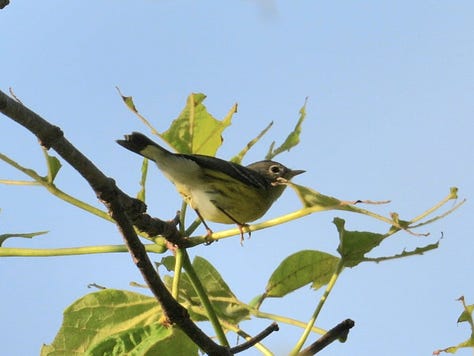 With lower light conditions, everything is later today, and when the warblers are finally in their flocks, many are too far away to make out through the fog droplets. One unusual call is a Great Crested Flycatcher, reep-ing loudly from a tall tree by the powerline, getting toward the end of its year here.
For the first time in about a week, I have time to head up to the spruce grove; as I approach, a Sharp-shinned Hawk circles and then dives into the conifers. This might explain why the Ovenbirds are so agitated today; three pace up and down all over low branches inside the grove, just a few feet from me, making loud alarm calls.
After that, it's dead silent. The sky had lightened a bit but now I can hear distant thunder, and as is typical in such weather, the birds hush.
Do Cape Mays Play?
I have more luck at the Far Field at another prime sit spot. Several Cape May Warblers are about, and as I watch them chase each other, I wonder what the literature says about their play (nothing, it turns out). One just assumes, given their high energy, that all the activity is agonistic this time of year, some sort of defense of resources in ephemeral territories they set up for a few days or weeks. But as I watch them, words like "frolic" and "cavort" pop into my mind. Perhaps it's a relict of too much raven-watching and a hyperactive kitten in the house, but I really have to wonder if they're playing. They certainly aren't lacking resources to squabble over here.
Another day, another Connecticut Warbler. What was once a cryptic species for me here is now somewhat predictable, though this is the first report ever for the Far Field. And even though it's not a fallout day for Black-throated Blue Warblers, one obligingly pops out here. I wonder if it's the same male that's been at this spot for weeks. Like the Hooded Warblers and several others on the hotspot, it seems to me that these may be leftovers from the breeding season here, or at least sedentary individuals making a long refueling stop, rather than different individuals simply seeking out the same specialized niches during brief stopovers.
The morning's list tops out again in the low 60s. It should begin to slide downward day by day as species drop out one by one, with fewer to replace them. The swallows are definitively gone from up here (they're still in the valleys), as are the early warblers (Worm-eating, Cerulean, Yellow, probably Blue-winged and Golden-winged). I detect a grand total of one Indigo Bunting, and even the Scarlet Tanagers, orioles, and most of the flycatchers will soon be a memory.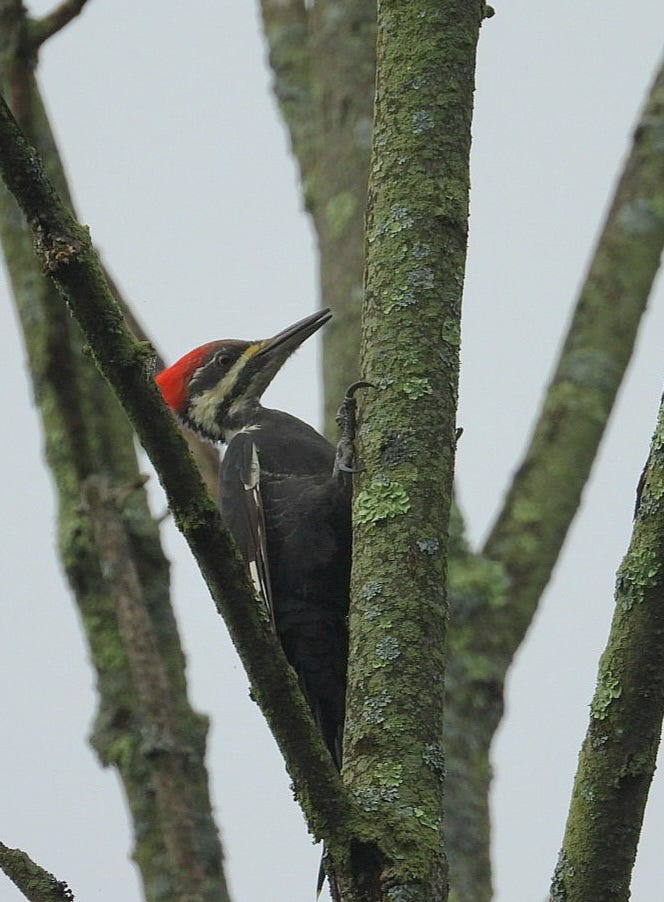 What's coming to replace them are relatively massive numbers of sparrows and warblers over the course of the next month. Indeed, what we will lack in species richness we will make up for in sheer numbers by early October.
Part of the shift also has to do with the fact that the black cherries are being rapidly gobbled up, which seems to be the main crop for frugivores, though the wild grapes should keep the robins (in quite low numbers now), waxwings, and other busy well into November if not later.
And in case you were wondering, we're still waiting for a good raptor migration day. This weekend last year featured hundreds of broad-wings, but we'll need the weather to clear out before we see a repeat performance. That will be the day or days I'm glued to the balcony.
Threading a Needle?
As for NFCs, I will eventually be able to do full counts of the thrushes for 2023. All species broke state records last year. I'm particularly interested in documenting them because it occurred to me that all those peeps we hear are the ones that survived the giant wind towers on the Allegheny Front a few miles to the north. I shudder to think how many Veeries and Swainson's Thrushes were reduced to their constituent parts in the fog this morning. Or, perhaps, they know better and fly above the hazards. This, anyway, is one of my ulterior motives in all this documentation: another way to foil plans to use rights of eminent domain to seize ridgetops such as ours for wind energy development. Even though commercial wind is strictly forbidden by our Conservation Easement, we can't be too careful.
Thanks for reading Bird Mountain! Subscribe for free to receive new posts and support my work.