Discover more from Bird Mountain
Mark Bonta's Big Year quest to log 200 species for Plummer's Hollow in 2023.
Yesterday
Today it's 28, clear, calm, and dry with the sun rising just after 7 AM. If I'm guessing right, this means a good dawn tally, except for raptors, but not outstanding, given the lack of a breeze. There's a certain early spring rhythm these days, still weeks before the rush of migrants.
Yesterday was disappointing, 41/cloudy/spitting-rain, with little of note and just 17 species. Other than robins, the closest encounter was with the White-breasted Nuthatch, which has taken to landing on the power pole just after seven, glancing at me, peering into a quarter-sized hole near the top, then flying to the next stop on its cache recovery route, over on a maple by the river.
Yesterday was also odd: the Common Grackles and European Starlings abandoned their two preferred dawn roost trees, clustering in the closest sycamore to me. They refused to land on their normal perch, the tallest sycamore by the interstate, but I never could see what was bothering them.
The starlings continue to act like swallows, and on calm early mornings, they and the grackles are the only ones making abundant use of the aerial niche. I'm intrigued to see what will happen when actual swallows return.
The large dawn flocks of icterines seem to have finally broken apart. Red-winged Blackbirds now go over in pairs, but they're sparse, I would guess because the majority are nesting east of the Gap and aren't coming west in the morning to feed. Brown-headed Cowbirds are similarly sparse: I saw them on the weekend, up in the mountain forests, pairing up and singing. Grackles and starlings, the dominant species around town, are both continuing to ready themselves for breeding; the grackles will nest all along the river, and starlings here and there in available niches, particularly in building, bridge, and highway crevasses.
Speaking of starlings, one dived at and attacked an American Robin on the wing yesterday, the last act of a sodden dawn.
Today
The early crowd is out and about by 6:46 AM. Robins have been calming down a bit in recent days, but that's relative: one decides to claim a railing behind me in an adjacent apartment, and sets up a racket, targeted at me or I'm not sure what else. A Mallard drake goes over, head down and slightly side to side, searching, and a single Canada Goose heads along the crest of Bald Eagle Mountain, but with the calm air, not much else is up there.
F8CK YOU SHUT UP F8CK YOU
An aggrieved string of expletives from a block away jolts me out of a pleasant balcony sit. At first I think it's someone hurling insults at me from a car window, but I realize it's just the outside part of someone's domestic altercation.
But nothing follows this, and I lapse back into a birding frame of mind. Again today, the White-breasted Nuthatch zips in, landing on the power pole, peering into the hole, then at me, and it's off to the red maple.
Right after this, at 6:53, a pair of male Common Mergansers, a species that's gotten scarce in recent days, comes in from the Gap and makes as if to land at the confluence. Thinking better of it, perhaps after taking a look at me, they speed off upriver.
By seven, I've logged 16 species, way better than yesterday's eight. The unlimited ceiling is still largely free of birds, though.
Blue Jay Memories
The second wave ends at 7:14 AM with the first Rock Pigeons lifting off. The list now stands at 23 species. Between now and first sun I've still got some time, so I'll see what else is around. These post-pigeon periods are optional for me, as on calm mornings like this one, activity dies down fast (birds are at their feeding spots by the time the sun hits, meaning they're mostly invisible to me).
Today, I'm glad I lingered. An explosion of starlings and grackles out in the Gap also includes an Eastern Bluebird flying about. I've been hearing them intermittently, and I suppose they've found something useful out in the extensive mowed fields flanking the ramps, invisible to me.
At 7:32, a Black-capped Chickadee sings. Abundant elsewhere, it's now become a rarity in my balcony vigils.
The junkyard raven perches on the tallest brick building, an old hotel, and is flapping all about its junky habitat. It's not very vocal, but it's definitely up to something.
Northern Cardinals are now a late dawn species. I don't hear them at all at first light, but after 7:30, there are three in seeming competition, calling and singing from different directions.
The star of the morning is the Blue Jay. I've been hearing them off and on all winter, but for whatever reason they've stayed out of this end of town. Until now. One flies overhead, calling loudly, and lands in the nearest sycamore, waiting for me to get my camera in position. Just as I'm about to snap a photo, it keeps going. Two more follow, landing in the tallest sycamore, scattering grackles and starlings, framed in perfect sunlight. They, too, move on as I raise the lens. There's something about seeing and hearing Blue Jays that stirs memories of infancy: I've thought hard on this, and it seems as if they must have made a big impression on me in the very earliest days of my youth. Like cardinals, they are truly spectacular creatures, but of course, because they're common, it's hard to step back and remember this. My mind retains something of that awe in faint memories, sparked particularly by their jangly call, obscured by half a century.
What Happens the Rest of the Day?
A text from Dave close to 11: pair of Louisiana Waterthrushes singing at the gate entrance to Plummer's Hollow. This is the earliest report of the species for here, first-ever for March, and Plummer's Hollow 200 #81. To judge by the near-silent NFC record, nights have been nearly devoid of spring migrants, but at least these two have made it back. He also reports courting Eastern Bluebirds, while Mom has a banner morning, finally seeing the Ruffed Grouse that lurks around Far Field, a pair of Great Horned Owls, and several Wild Turkey males.
Back here in town, I watch the clouds and vultures in breaks from work, and move to the porch if things start to happen. The spring raptor migration has been muted at best, with cold northwest winds dominating, but with any warming and updrafts, a few long-distance migrants tend to show up. Turkey Vulture is the best clue: locals are largely absent when it's calm, but with updrafts, they show up immediately, often over the Gap, and begin to kettle. When local Black Vultures, Bald Eagles, and Red-tailed Hawks get involved, it's time to pay attention.
Yesterday, I sat out for an hour and half starting at 12:54 PM, but nothing happened. Today, I sat out for nearly three hours, beginning at 1:48 PM. Despite warnings of a violent front bringing snow squalls in the evening, enough sun and enough heating generated some convection and updrafts. The dark undersides of puffy clouds started to fill up with vulture dots, then a few non-local redtails. The highlight was a Golden Eagle, moving steadily from south to north; as I focused on the eagle, two Ring-billed Gulls went over, beyond and even higher, right through the clouds.
By three, the activity waned, but at 4:25, another kettle formed over the Gap, with locals as well as a fast-moving Sharp-shinned Hawk.
The Dull Hours
In the long stretch between dawn and dusk, besides raptors, very little is out and about, at least from the limited perspective of an urban-edge balcony. Grackles and starlings disappear: it is common to go hours without seeing either species. They appear again around five on both their favorite dawn perch trees. Robins also seem to go into hiding. The dominant species of the afternoon is without a doubt the Rock Pigeon, endlessly commuting through the Gap in small flocks, back and forth from preferred feeding spots to the east. House Finches and House Sparrows are also about, but in small numbers. The finch sings, and occasionally, a cardinal or Song Sparrow lets out some notes as well. But it's all very dull and muted.
All this is soon to change. With the arrival of Barn Swallows, Northern Rough-winged Swallows, and Chimney Swifts, things are about to get a lot more aggressive, I suspect. Many's a morning I've watched an Accipiter plow through town kicking up clouds of small birds, only to be attacked and driven away by Chimney Swifts. They will be the first up and the last to bed, the very epitome of summer bird activity. Meanwhile, Baltimore Orioles and Warbling Vireos will be nesting at the confluence, with Scarlet Tanagers, Rose-breasted Grosbeaks, Wood Thrushes, and Red-eyed Vireos not much farther away. But I'm getting ahead of myself.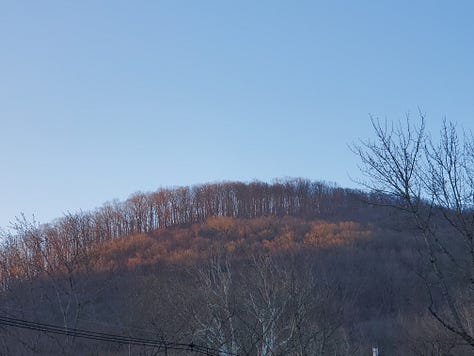 Thanks for reading Bird Mountain! Subscribe for free to receive new posts and support my work.