Discover more from Bird Mountain
Mark Bonta's Big Year quest to log 200 species for Plummer's Hollow in 2023.
September Trifecta
--Thurs & Sat, Sept 14/16 2023--
On Thursday, I'm at my favorite field sit spot by 5:33 AM. It's in the low 50s and clear, great news for the NFCs.
The peeping has already been going on for a great while by the time I settle in. Expected numbers are dozens of Wood Thrushes and Gray-cheeked Thrushes, a few hundred Veeries, and several thousand Swainson's Thrushes, with possibly a few Hermit Thrushes for good measure. Rose-breasted Grosbeaks and Scarlet Tanagers are also typically mixed in. On the high registers, it's still almost totally warblers, with a few Swamp/Lincoln's sparrows (indistinguishable). At this point, I am falling impossibly far behind, not able to catch up until late November at the earliest. At most, I have time to scan the most promising hours to see if anything unusual stands out, such as a Dickcissel or a shorebird.
A Zombie at Dawn?
Down here in the field, at 5:57 AM, I hear the loud, unmistakable down-slur of a Gray-cheeked Thrush mixed in with seemingly endless Swainson's. Then, maybe a dozen yards away, where the goldenrod gives way to tangles, an eerie screaming starts up. Not an owl: more likely something like a raccoon or perhaps a porcupine. Whatever it is (or they are), it's too dark to make out, but I can hear the vegetation rustling as something moves out toward the trail junction. I get my phone flashlight and camera ready.
And then it/they begin/s to growl. Whoever creates the soundtracks for zombie movies must have used this whatever-it-is, because the likeness is uncanny. Needless to say, I've watched a lot of zombie movies—possibly all of them—so as the growling continues, I wonder how exactly I am going to execute a double tap. But it stops abruptly and whatever is making it shambles back into the woods and screams some more.
My notes stop right after that. This is not suspicious; I simply am perfecting the timing of my movements from spot to spot to intersect the warblers, so there's no time to write things down. This morning I have to get to work early, so I cut it short at around 50 species. I'll be back on Saturday for a full accounting on what is supposed to be the last of the perfect days. I must say, I don't miss the bugs!
Act One: The Thrushes
On Saturday, I leave at 5 AM walking from town along the tracks. It's in the forties with patchy fog, which seems to be scattering the harsh glare of interstate floodlights halfway to the crossing, and by the time I'm out of their range, light from the sewage treatment plant is trickling west. I didn't intend to start the list until I got up top, but the peeping of thrushes can be heard as soon as I'm away from I-99. Later, the NFC recordings show it's been so clear and cold that the calls could be heard from not long after 9 PM last night. By now, they're passing overhead by the dozens or even hundreds every minute, possibly one of the peak nights of the year.
Astronomical twilight begins at 5:21 AM as I put my phone flashlight in my breast pocket and plunge into the absolute darkness of the Hollow for the 1.5-mile trudge.
By not long before six, I'm flopped down, sweating, in my chair in the field, as the chorus of peeps continues, interspersed with a fair amount of grosbeak calls. The Eastern Whip-poor-will seems to be gone, and there are no owl calls, either. Nary a zombie is heard. At 6:14 AM, the first Wood Thrush clucks.
Eastern Towhees begin buzzing at 6:19, and three minutes later, reep-ing. They're now three weeks from peak: last year on a wet and windy October 8th, Plummer's Hollow set the state towhee numbers record at well over 100.
As if like clockwork, as the light grows, the thrush descent ends, the towhees begin calling, a few minutes go by, and then thrushes begin to call from the woods all around, dominated by Swainson's but with the others as well. This lasts less than five minutes, and transitions into Common Yellowthroats, Field Sparrows, and other early risers. Whether these thrushes have just arrived themselves or are greeting the newly arrived is impossible to tell.
For the second time this week, Merlin picks up a Black-billed Cuckoo, which I first dismiss as a mis-diagnosed Wood Thrush. However, a couple minutes later, I distinctly hear the cuckoo as well.
Act Two: The Warblers
Numerous species sound off between 6:30 and 7 AM, when I have the luxury of pacing around at the sit spot, as it's still too dark to make out much, except against the dawn sky. Off in the goldenrod somewhere, one of many "lasts" for me this year, I would guess: an Indigo Bunting singing, a song I haven't heard since August. Like a lot of singers these days, it only goes once. Not long after that, Rose-breasted Grosbeaks break into 'chink' calls and subsongs and begin flying back and forth in what turn out to be unusually high numbers. A Philadelphia Vireo sings, and then the first of at least 70 American Crows begin streaming over the Hollow, heading east, as European Starlings skim the treetops heading west.
Woodpeckers are out and loud by 6:45 in what ends up being a major woodpecker day. For now, it's a Downy, a Hairy, and a couple Red-bellieds.
An American Redstart calls loudly and then flies overhead at 6:47, a sign to get moving and re-situate to my edge-of-powerline sit spot for the warbler show. For now, though, it's all about the American Goldfinches, which are playing every song in their repertoire as they bounce here and there through the sky and then gather in the tops of the black cherries.
Merlin hears a Mallard, and rather amazingly, a few seconds later, one emerges from the woods over by the deer exclosure, flying away north. I keep an eye on the eastern horizon, but mostly, I watching the bend of the trees, and I see the last Ruby-throated Hummingbird of the year, perhaps, a male, lit up by the first rays, hovering in front of red cherries as if wishing they were flowers. And then the warblers, all 19 species of them.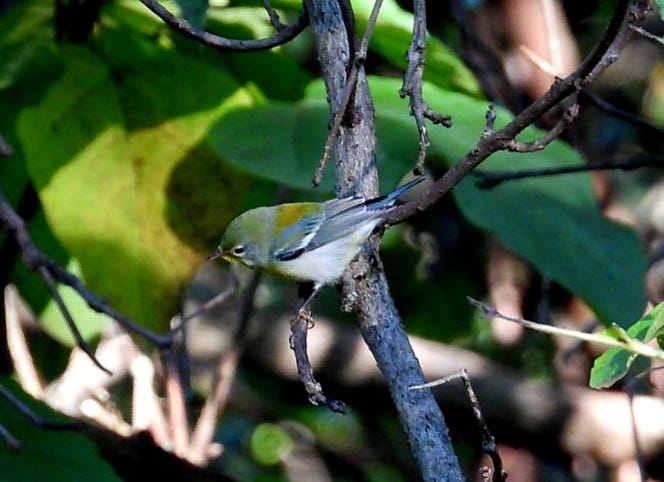 The undisputed highlight today is the Northern Parula. Tiny individuals come within a few feet of me throughout the morning, calling but also singing. I've never seen this many before here, and certainly not this close up. And Magnolia Warblers are still here as well in their all-time high numbers. The Blackpolls and Bay-breasteds have moved in as well, but they're typically higher up.
The second sit spot is facing the warbler catalpa, surrounded by goldenrod and black locusts. I had thought that Eastern Wood-Pewees had moved on, but they are still around in numbers and some are singing; even a single Least Flycatcher shows up. One song that takes a while for my mind to place turns out to be what I would assume is a young Scarlet Tanager. Their numbers are down, but they're still here as well.
As warbler hour winds down, my head reeling from the parulas, I walk gingerly through the soaking goldenrod toward Connecticut Corner for the third sit, on the far side of the nearly denuded catalpa. Surprisingly, no Connecticut Warblers are around today, but Hooded Warblers—all males today—make up for it with close approaches. At one point, I watch two males fighting. None sang at dawn, but I have heard a few sing since then. And then, another pleasant surprise: what will probably be the last time I hear a Warbling Vireo sing.
The camera dies with a rude sound and warning. Forgot to charge it. The most I got today was a parula and some cherry-gorged Cedar Waxwings. Murphy's Law: I'll see something noteworthy. It's getting late, but I ditch the whole backpack and head, sans coffee and snacks, to the spruce grove and the Far Field for a full accounting of numbers.
Act Three: The Kettles
Of the 75 species I end up recording today, I detected 60 before 8 AM. I always like to "front load" my species list so I can focus my attention on what I haven't already detected. I also count as many as I can early to note where numbers are up and where down, and what to expect later when things calm down.
The spruce grove is pretty predictable: Golden-crowned Kinglet, a dozen or so Cape May Warblers, Black-capped Chickadees, and a scattering of other species. I continue to the Far Field sit spot and play a little vireo, even though it's almost ten.
Of all the unlikely occurrences, today, the Philadelphia Vireo decides to set a record. I don't really know how many are feeding on a black birch at the edge of the woods mere yards from me, so I conservatively note three. Along with the warblers—Tennessees, Cape Mays, and others—the phillies are moving pretty fast, but I do hear both a scold and another call, both new for me. Today's PHVI count is four, not too far off a state record set at Hawk Mountain. Had I had the time and persistence, I'm not sure how many I could have found in the hotspot today, but this is the second year in a row they've had an outstanding showing. I wonder whether they are drawn here, or are simply overlooked elsewhere. I would have gotten some nice photos, but, you know. Here's a spring individual from May 16 2020:
Today's vireos all have the diagnostic yellow throats and dark line connecting the bill and the eye.
The other major bit of excitement up here starts with an odd-looking woodpecker on the dead ash, being harassed by a bird that I neglect to identify. I think it might have been a Cape May Warbler. The woodpecker is an immature Red-headed, familiar to me from Mississippi but the first I've seen up here on the mountain, and second of its kind in as many weeks here. Round about, numerous other woodpeckers are calling and flying, with the only missing species the Yellow-bellied Sapsucker, having still not arrived from the north.
At 10 AM, as I move on to do a loop of the field, I hear that old familiar 'screeeeee!' I look up to see 11 sunlit Broad-winged Hawks shoot out from behind the canopy to the north, then kettle overhead, seemingly to gain some altitude for the several hundred extra feet in elevation Brush Mountain adds to the south, beyond the Skelp Cut. Within second, more follow, calling occasionally. I settle in, thinking that I made a pretty big mistake not bringing sustenance if this turns out to be a big migration day, as I'll be stuck here.
But within 25 minutes, 120 hawks later, it's over. In this interval, a Sharp-shinned Hawk dives in to the thicket below the black birch, but even that doesn't quiet down the pewees, phillies, Tufted Titmice, and red-bellies.
I pack it up and continue the loop, stopping at a final point to listen to thrushes calling and to watch yet another House Wren.
The Last of What I Predicted
I hoof it through the woods back to First Field in case more hawk kettles go over. (They never do. Elsewhere, numbers were quite high for the day, but I'm content with what I saw today). By 11 AM, it's mostly quiet, and the slowly warming field sounds like a giant honeybee hive, with monarchs and great spangled fritillaries here and there, and dozens of green darners on the move. Most birds are quiet, but the Common Ravens are cranking it up somewhere out of sight.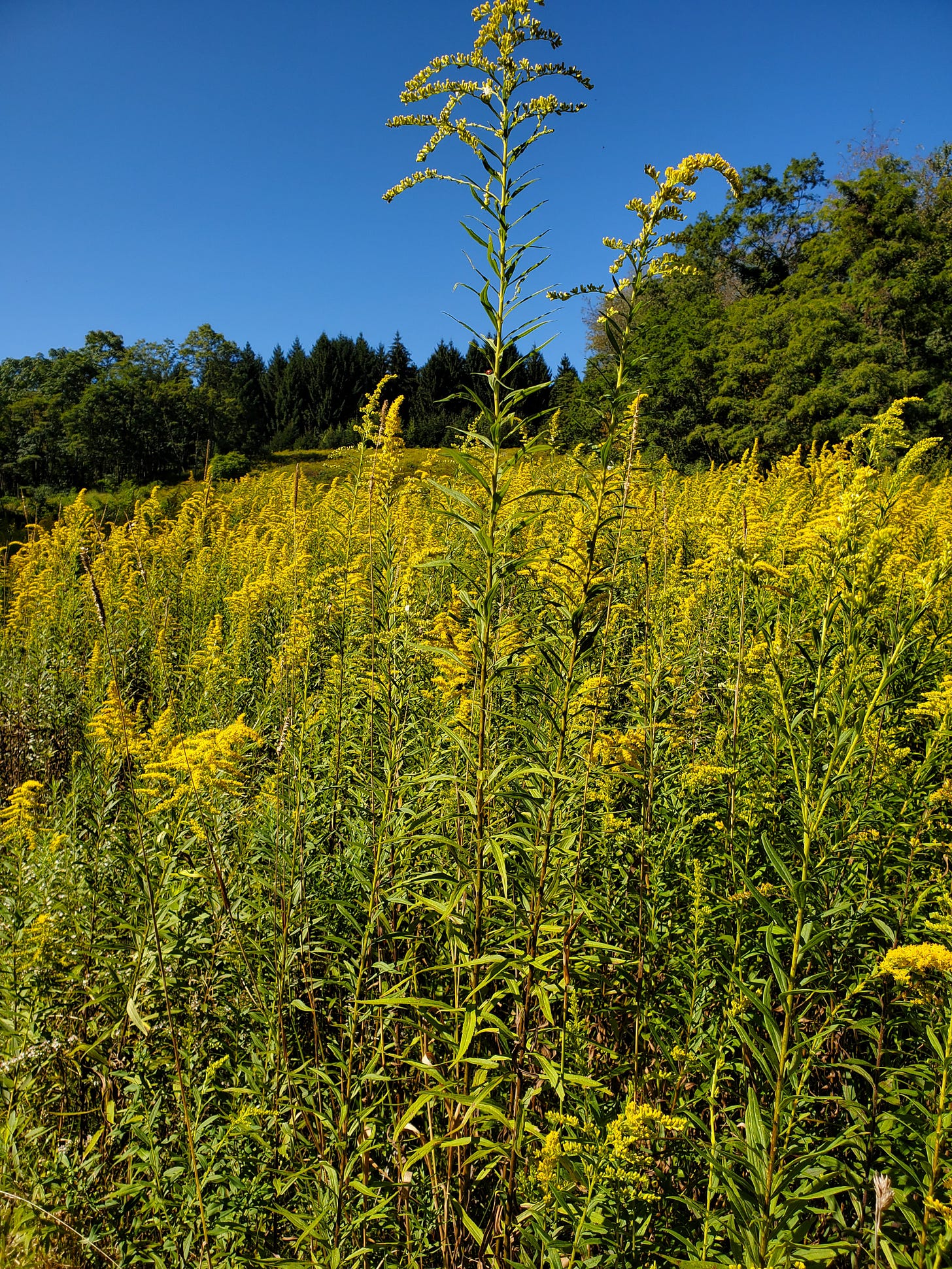 I stop to tally Turkey Vultures on the northern horizon, and some movement in nearby goldenrod catches my eye. From the side, what looks like a Song Sparrow is moving about, and then I hear that familiar 'chip' and see the fine streaking on the breast. At long last, a Lincoln's Sparrow, number 194 for the Plummer's Hollow 200 and the last "easy" species. I was a little worried about it nonetheless, as I missed it in the spring. We get high numbers in the fall here, though, and this is the earliest record ever for the hotspot. As the LISP continues to 'chip,' the vaguely similar sound of an eastern chipmunk keeps time with it from the woods behind.
I hang out and visit with Mom for a bit, and Eric Oliver show up with a drone to take some pretty spectacular footage. A Cooper's Hawk swoops over the field. I eventually make my way down the Hollow, but am interrupted four times by mixed flocks of chickadees, titmice, and warblers, with the odd pewee, vireo, or tanager thrown in. Down by the gate, Red-eyed Vireos are still out in force. I wade into terra nullius and find the last Magnolia Warbler of the day. I'll call this the end of summer.
Numbers
Despite the overall downward numbers trend in most migrant passerine species, excepted entering the third week of September, the eBird numbers filter is exceeded several times. In addition to the four Philadelphia Vireos, Magnolia Warblers (15) and Northern Parulas (10) have all-time highs, with the previous high for parulas just four on Sept. 17 2022. At the county level, the phillies are a record as well, along with the seven Hairy Woodpeckers (which I think are residents that just happen to be extremely vocal these days). The parulas match a record from spring 2022 elsewhere in the county. In recent weeks, the 23 Rose-breasted Grosbeaks and 23 Tennessee Warblers were also county records.
As for the remaining six species to achieve the Plummer's Hollow 200, a six-week window between mid-October and late November is key, excluding whatever might happen on the NFCs. The best possibilities now, based on the last few years, are American Black Duck, Northern Saw-whet Owl, Bonaparte's Gull, Pine Siskin, and Evening Grosbeak, with others being Rough-legged Hawk, Snow Bunting (NFC only), and Lapland Longspur (NFC only). There's still time to find a Dickcissel on the NFCs, or even an errant, rare shorebird such as an American Golden-Plover.
In the last 365 days, exactly 200 species have been recorded on the hotspot. One way or the other, for calendar year 2023, it's gonna be close. I just hope I don't end up like that character in The Big Year, tramping around looking for a Snowy Owl at year's end. More likely, if it comes to that, I'll be glued to the NFCs by well before that time.
Thanks for reading Bird Mountain! Subscribe for free to receive new posts and support my work.