Discover more from Bird Mountain
Mark Bonta's Big Year quest to log 200 species for Plummer's Hollow in 2023.
Robinless
Today, the sounds returned that were absent or muffled yesterday: back to what passes for a "normal" brown January day. Except for one dramatic development.
A Normal-ish Dawn
The temperature is at the freezing mark, with a brisk westerly breeze and puffy clouds. The crusting of snow has melted off the near ridges. At 7:07, TR, the tannery raven, is back and honking off by the interstate; two Mallards fling themselves south over this side of town.
Clouds are rushing east so fast they're crunching together, and hints of more blue than gray are emerging. You never know, this early, if you'll get a sunrise, if it will last, if mid-morning will be rain, snow, leaden overcast, crystal-clear. Humid Continental.
Reassuring my scheduled mind, what I take to be the self-same House Finch as every day bounces over my head at 7:20, about the same time it always does, chiming more than yesterday. The Black-capped Chickadees and Tufted Titmice vocalize a few minutes later, as they always do, and as usual, I never see them. The chickadee 'dee' sounds nearly identical to the brakes of the school bus turning around in the VFW parking lot to pick up tykes and head back into town. Every day.
The first European Starlings arrive at 7:26, pipping and circling as they do on these normal days. Then the American Crows start cawing from up on Sapsucker Ridge. At 7:32, the White-breasted Nuthatch, predictably, flies from south to north, only today it alights near the top of a visible willow trunk by the creek and hatches down, probing.
Two Common Ravens flap across town from the south at 7:33 AM; I lose sight of them by Bald Eagle Mountain. Two fly high back from the mountain, across the Gap, and down Brush Mountain. I'm taking them to be the same ones. They're almost always together, and I don't think there are any other pairs about this month.
As the first Rock Pigeons begin to circle, one of the local Cooper's Hawks, mewing faintly, flies unhurriedly out of the vegetation along Bald Eagle Creek, just the other side of 10th Street and maybe 10 yards off the ground, a straight line toward Pennsylvania Avenue. The very definition of "urban raptor," almost as much a city-slicker as the House Sparrow at this point, it seems to me.
Pink early was deceptive, perhaps. It seems like sunrise is failing completely by 7:40 as gray sets in, but it's entirely temporary. The ending and the beginning are spectacular. House Finches are up in the air, this way and that, calling, all the opposite of yesterday. Small flocks head out to the Gap. A Bald Eagle is over by its mountain again today, but it's an adult, not the juvenile. It heads aloft and then above the towers, grabs the vector raptors and ravens often follow, steady and straight across the Gap and on down Sapsucker Ridge south.
Just before the Downy Woodpecker wraps it up, at 7:46, a Winter Wren calls from the brush around the confluence somewhere. Carolina Wrens have been absent for weeks, which I didn't expect, but I'll take the diminutive relative—first appearance here since back in December. I'll be surprised if it sticks around; it seems as if most of the birds of the nearby brush have turned silent or left: Dark-eyed Junco, White-throated Sparrow, Northern Cardinal, Song Sparrow (or it could also be that they simply don't have anything to say this early in the day).
Starling/Robin Hiatus
By just before 8 AM, most days this month, rain or shine, boisterous or silent, the starlings have taken over. Not today. Some showed up, mostly in pairs, some 40-odd in all. But they're not flying around or alighting on any of the nearby trees. And the robins are gone!
None called, none sang, none appeared.
I never could get a handle on how many were in town these last few days, but it was probably a lot more than the 40 I could usually count. I mean, aren't there always SOME robins around?! One was singing on January 1st! It seems to me, though I'll have to check, that the American Robin is my most baseline of birds—I can't ever remember a dawn sit without one.
The only advantage I can see here is that this turn of events has allowed me to inflict on you yet another shaky neologism, "robinless."
*Spoiler Alert - as tomorrow's post will show, I am wrong on several accounts here*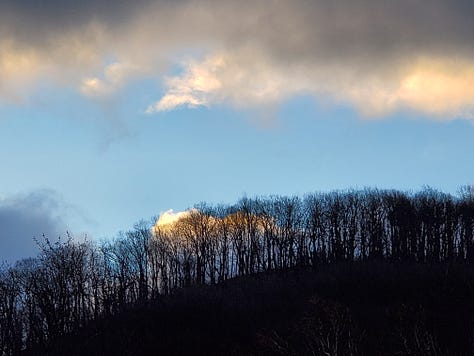 ---
Update 1: No robins appeared during the entire day.
Update 2: The drake Wood Duck was off by himself at the pond at dusk. Nearer to my end, when he saw me he flew down to join the crowd, whistling slightly. No trains to spook me, I crept close today and for once, the flock didn't flush. Still nothing new, though.
Thanks for reading Bird Mountain! Subscribe for free to receive new posts and support my work.