Discover more from Bird Mountain
Mark Bonta's Big Year quest to log 200 species for Plummer's Hollow in 2023.
Pouring
7:15: Nothing.
7:30: Checklist Zero.
At 7:39, something swoops from left to right up into the nearest willow, but I lose it. Starling? Robin? Downy? Maybe even a Cooper's. Mark as "bird sp." and throw in the towel…
Why Do Blackbirds Only Show Up When It's Raining?
Four minutes later, a silent flock of Common Grackles, some 40, come from the south. heading north. Why only on such awful days? Seconds later, I count 17 Red-winged Blackbirds from the same direction, but these turn and head through the Gap out into Sinking Valley.
Above the point of Sapsucker Ridge, at the edge of the cloud curtain, 40 Rock Pigeons wheel in from the south, clearly from another part of town, and pass over toward the valley. Three House Finches, wind-and-rain-buffeted, are with them. This is another phenomenon I see only with heavy cloud and rain.
While I'm watching this unusual flock, 20 more grackles pass by in front of me and not high up and the tannery raven seizes the moment to burst out yards from me and wing across the parking lot. It was voiceless today.
The rain shows no sign of letting up, while the bird activity, far from Checklist 0, is among the most frenetic I've seen this month. Mostly, it's starlings and robins, but commuter pigeons from downtown also pass over the mountain and House Sparrows flit about.
Starlings and robins pass to and from from treetop to treetop, perching in poplar, sycamores, and willows. The starlings, from what I can hear, are silent, while the robins are limited to the 'seeps' that I take to be contact calls.
The main action is in the sycamore at my 1, over by the interstate. This is the tallest tree around, and a favored perch of starlings throughout the year. (Also of grackles, which nest nearby, but I've seen none on it for many months.)
Robins Attack!
Perhaps the starlings are making noise—when are they not?—but they're drowned out by the infernal roaring of trucks and trains. Scanning to the right, I see a drenched Cooper's Hawk, some five yards away from the 15 starlings. It flicks its tail. They seem utterly unconcerned, and it's not trying to hide. I've never seen one dive at a starling, so perhaps they're not prey.
Around 7:56, some seven robins swoop in and chase away the hawk. Several dive at it as they settle on its limb, and it drops down. Add robins to the list of table-turners: I've seen Belted Kingfishers and a Pileated Woodpecker both literally take stabs at perched Cooper's on nearby buildings, and now American Robin. This particular Cooper's lingers a bit on a lower branch; I go in to get my camera but when I return, it's gone.
Rising
The Downy Woodpecker starts up, quite loud and insistent, at 8:11, late like everyone else. For once, though, it's not the ending bell.
The rain goes on as the river swells toward yet another January flood. At 8:14, four American Crows, silent, flap leisurely across in front of me, something I've not seen at all this month. Like most birds today, they're coming from the south and heading north.
"Peter peter peter." From trees along the river at 100 yards, a Tufted Titmouse so piercing I can hear it as clear as a bell over all the competing ruckus. Over and over, and continuing when I have to go in.
---
I pop out throughout the day to check for local blackbirds (I'm still missing a Rusty Blackbird for the Plummer's Hollow 200). All I get are robins and starlings, perched on the treetops all about, in the pouring rain, seemingly unconcerned.
---
Once again, later afternoon at the pond. Muskrats are as busy as always, but ducks are skittish, perhaps because it is so close to dusk. Nothing new to report.
Walking back, right at five, I hear a Carolina Wren doing its twilight down-trill, four times. I no longer hear this species from my dawn balcony, but there are plenty about up and down the watercourses. It's nice to hear a single bird mark the dusk, and not surprising a Carolina would be the one. Winter Wrens are down in the riverside tangles as well, I suppose, but they're not vocalizing. A Northern Cardinal ticks, and it's over. Displaced Mallards circle and circle.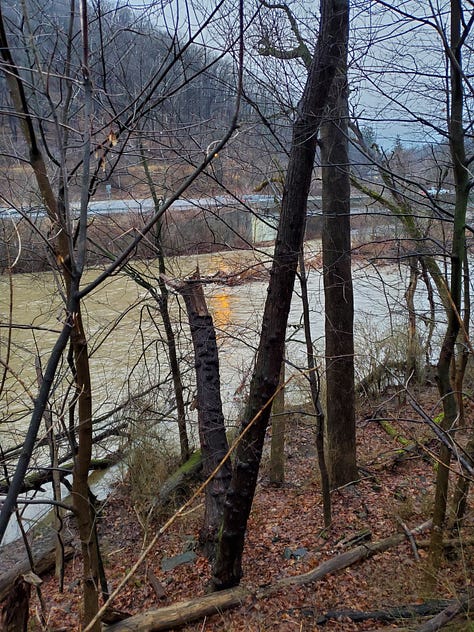 Thanks for reading Bird Mountain! Subscribe for free to receive new posts and support my work.