Discover more from Bird Mountain
Mark Bonta's Big Year quest to log 200 species for Plummer's Hollow in 2023.
Of Peregrines and Pigeons
--Mon to Wed, Sept 18/19/20 2023--
Monday's balcony dawn, 54 and cloudy, reeks of wood smoke and humidity after overnight rain; I close my eyes and I'm breathing in the Guatemala highlands. The tally ends up seven species down from yesterday in about the same amount of time. The reason is noise: on Sundays, I hear those distant calls that get obliterated by Monday's rush to work. It's never hard to forget that my balcony fronts an interstate and its entry and exit ramps and is a stone's throw from the junction of two heavily-trafficked highways in an area where many people drive large works trucks, and semis roll by every few minutes during morning rush. And the trains. And the school buses. And the junkyard. That's Monday versus Sunday.
Despite all this ruckus, the nine Common Mergansers go by at 7:33 AM, eight minutes ahead of yesterday, but otherwise following the same path as always.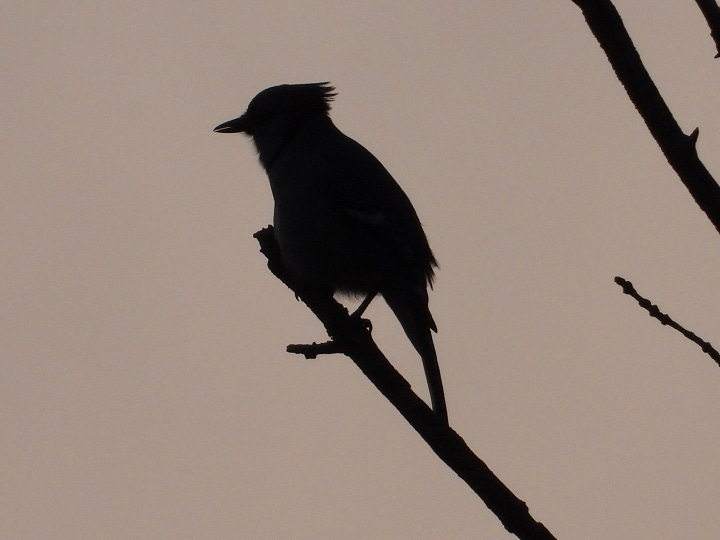 A windy dawn in late September
On Tuesday, the right conditions arrive. Clear, 54 like yesterday, but somehow a wintery feel to the sky with compact clouds moving quickly west into the dawn, even though there's no breeze down here on earth. With all I've learned this year, I'm guessing that plenty of birds will seize the opportunity for a lift.
For possibly the first time ever, the very first bird I see is a juvenile Bald Eagle flying out into the Gap, at the (nowadays) early hour of 6:30 AM. Five minutes later, the Common Ravens, as expected, are cavorting about the towers and the ridgeline of Bald Eagle Mountain, as they love to do in this type of weather. A solo raven is joined by another and then three more, a quintet that's been hanging together for several days now.
Nearer to me, the early vocalists, predictably, are a couple Carolina Wrens, a few American Robins whispering, clucking, and heading out of town, a Gray Catbird somewhere down in the creekside brush, and a Song Sparrow, calling in flight. At 6:40 AM, right on schedule, the first Rock Pigeon commuter flock lifts off, with its sentinel a bit behind and below, as always. This first flock is around 20 and wastes no time in grabbing the breeze and heading east over the flank of the mountain.
The wind sends nine Mallards in a straight line and fast out of the north into the Gap: no circling or quacking today. Then it grabs a Mourning Dove lifting out of a nearby tree and hurls it north somewhere. A strange, buzzy flight call overhead: Common Yellowthroat.
By 7:07, the ravens are joined by a Black Vulture trio over the towers, and minutes after this, a dozen Turkey Vultures show up as well, taking advantage of the lift. At 7:11, a Cooper's Hawk, long tail stretched straight, flaps and glides far overhead below the clouds, going eastward. Another flight call: Indigo Bunting, unseen.
The second Eastern Phoebe of the morning calls out its name, loudly and repeatedly, from the confluence, rather than just emitting the brief chip-like phrase most migrants use this time of year. At the half hour, the juvenile Bald Eagle returns from wherever it went out in the Gap an hour ago, and flies back upriver, hugging Sapsucker Ridge.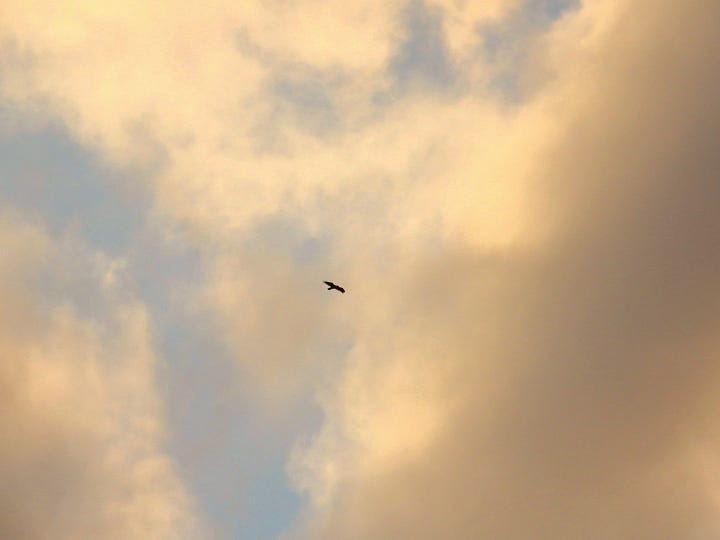 Seconds later, the Rock Pigeon commute I've been tracking to my left is in sudden disarray. A large group has broken into three and each smaller flock is executing some pretty tight maneuvers about halfway between the balcony and the towers. In no time, the culprit becomes visible: a Peregrine Falcon, careering this way and that, stooping and swerving. The world's fastest bird, despite being able to reach peak speeds of over 200 miles per hour, is thwarted again and again, and eventually heads back out to Bald Eagle Mountain, where it likely came from before I saw it. The pursued pigeons race desperately out of town and the sky clears of birds. The falcon flies along the ridgeline, does another jaunt back toward town, but I would guess its prey have all hunkered down. It turns out around and heads back to mountain, and I lose sight of it around the towers.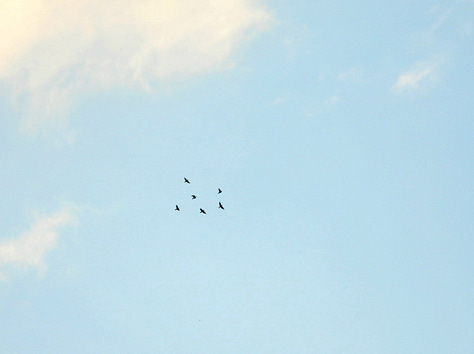 All this time, uncharacteristically for this time of year, a single American Robin sits on the top of the dead ash, but it never emits an alarm call. I notice that the European Starling commute did not happen, and I wonder if this is related, since they typically sweep into town in grand fashion not long after seven. A few are around, but invisible now. Also, the Common Mergansers were nowhere to be seen, but I could have missed them while watching the action.
Last year, I was on the upper roof on September 27 when a Peregrine Falcon zoomed 10 feet of my head, pursuing a small flock of pigeons that had ruffled my hair milliseconds previous. I'm glad to have witnessed a better version of the chase this year. We don't have resident Peregrines in Tyrone, and I suspect these September birds are long-distance migrants (perhaps the same birds year after year) that know Tyrone, with our over 300 pigeons, is a decent place to grab a meal. Rock Pigeons, however, have been evolving right along with their primary predator—indeed, all over the world, as both species are cosmopolitan and reside in urban areas. Apparently Tyrone's birds have figured out the best how-to-avoid-becoming-breakfast tactics.
What happened today could answer a lot of the questions I've raised about Rock Pigeon behavior. They are incredibly smart and social birds; perhaps they practice evasion tactics for hunting season, just as raptors practice the hunt. I've seen too many sentinels in the larger flocks to chalk that up to chance, for example. I'll have to delve into the pigeon literature to see what others have said.
During all the drama, Turkey Vultures were coming and going, east to west and back, higher up, completely unfazed and disinterested. And by 7:43, Rock Pigeons are commuting again, evidently believing that the Peregrine has moved on.
Just before the sun hits, a final bit of excitement happens as an Osprey flies through the parking lot into a tree at the confluence, right on the edge of the pavement but hidden by foliage. It screams several times, excited by something, then takes off downstream, low over the water.
Bald Eagle, Peregrine Falcon, Osprey. What a raptor will endure for the best fish-and-pigeon buffet in the area! (This in reference to my grumbling about noise above).
The filling of the field
Wednesday's a field day, starting at a cloudy 5:38 AM in the upper 40s. I have the time, but the birds end up taking their good ol' time in getting active as the sun lags behind the cloud cover.
As with most nights recently, the thrush descent is overwhelming, with many thousands of Swainson's Thrushes, a few Veeries, and several dozen Gray-cheekeds, in addition to some Wood Thrushes and a scattering of Rose-breasted Grosbeaks. Today, the thrushes have been pouring over since not long after midnight, and the descent itself continues all the way to 6:30 AM. While the whip-poor-wills have gone and I've not seen a woodcock yet, Great Horned, Barred, and Eastern Screech- owls are active.
It's quite evident by a quarter to seven that there are a ton of warblers about, as a percussive orchestra of ticks, chips, zeeps, and other call snippets indicates that they are waking up, or perhaps just arriving after long flights, and flying back and forth between roosts and feeding spots in the trees and goldenrod. I'm gratified to hear both Common Yellowthroats and Hooded Warblers still singing, as well as the chip-burr of a Scarlet Tanager.
That long, complex staccato is a Tennessee Warbler, or more than one. Along the northeastern horizon, American Crows emerge from somewhere in the Gap, out along Laurel Ridge, and then to Sinking Valley on some predefined mission, in two straggling groups totaling 45 birds.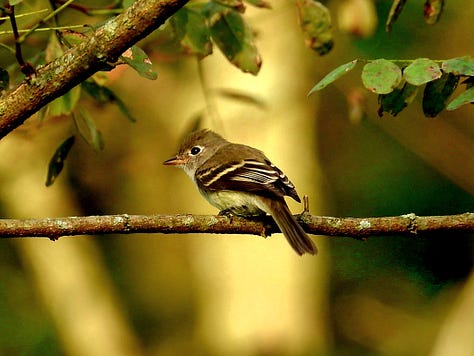 Somehow, amidst the calling Gray Catbirds, Northern Cardinals, and thrushes, a Brown Thrasher manages to mimic both the catbird and the thrushes. I see it later as it hops out of a barberry to investigate me. These thrasher calls aren't doubled like the ones in the spring. Though the one I see today is almost certainly a migrant from elsewhere, it is hanging out in exactly the same bushes that thrashers like when they first arrive in April.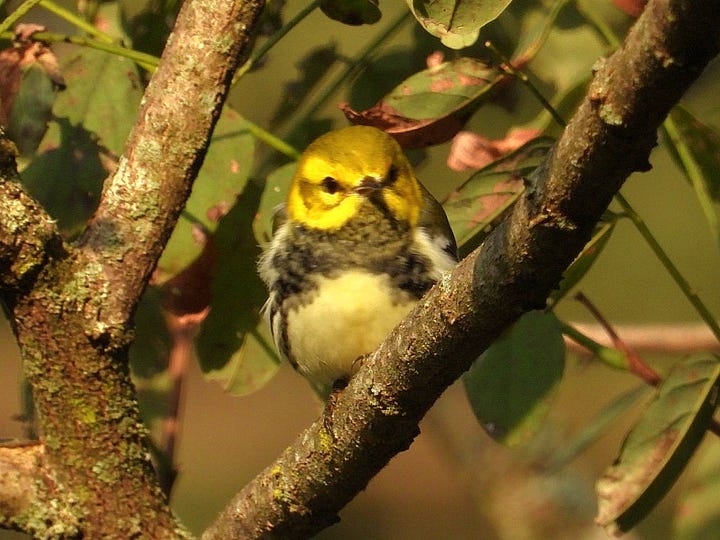 I had thought that Indigo Buntings would be gone, but some migrants are not only present but singing today. I position myself for a second sit at the corner of the woods and powerline cut, but because of the poor light conditions I can barely make out the warblers, except the Black-throated Blues down close in the bushes. And so it goes with Nashvilles and Tennessees, both singing and both apparently in very high numbers. I can't get a good fix on them or any other warbler species, however.
When the sun starts to beat back the clouds, I'm already at the Connecticut Corner sit spot, eyes fixed on the denuded catalpa and some nearby locusts, sun to my back. With a little vireo tape, the vireos arrive, and I struggle to get a good shot of the Philadelphia. A couple of Red-eyeds are among the last of their species this year, charismatic as always. Another vireo strikes me as a drab Philly, but it could perhaps be a late Warbling. The Philly had called, but this one is silent. I'm also gratified by nice looks at a Least Flycatcher, another species nearing the end of its 2023 run.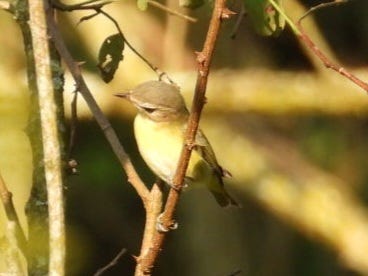 Down closer to the barn, the field is bursting with sparrows and warblers. There's no time to linger, but from what I can tell, Swamp Sparrows have finally returned and Lincoln's numbers are building, but Field Sparrows remain in the majority. American Goldfinches are still begging food from their parents. When I have more time, I'll comb the field for numbers and see if I can track down a Grasshopper Sparrow, which we've never seen clearly on the ground here, or one of the many others. The goldenrod makes seeing anything pretty challenging, but it's what's going to shelter the bugs and the birds through October and beyond.
---
Just below the bridge, a newly emplaced log in mid-current is hosting four female Common Mergansers today, the closest I've seen them recently.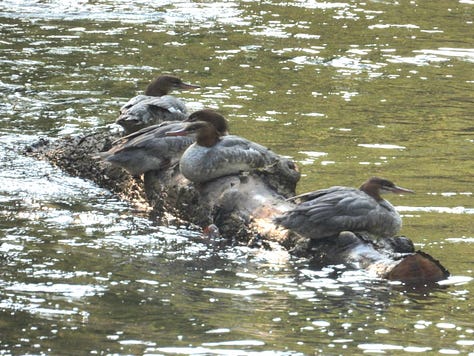 Thanks for reading Bird Mountain! Subscribe for free to receive new posts and support my work.